Our practice prides itself on being decidedly different from any other dental practice that you may have visited. Our primary focus is on you the patient and providing you with the best experience possible.
General & Cosmetic Dentist located in Lawton, OK
At Premier Dental Arts, Dr. Brett R. Warn, and his team understand the importance of creating and maintaining a healthy smile and have created a warm and welcoming office environment where they deliver comprehensive dental services.
After serving in the United States Marine Corps, Dr. Warn earned his degree from the University of Oklahoma Dental School in 1995. Since then, he has dedicated his professional life to helping people achieve their best possible smile.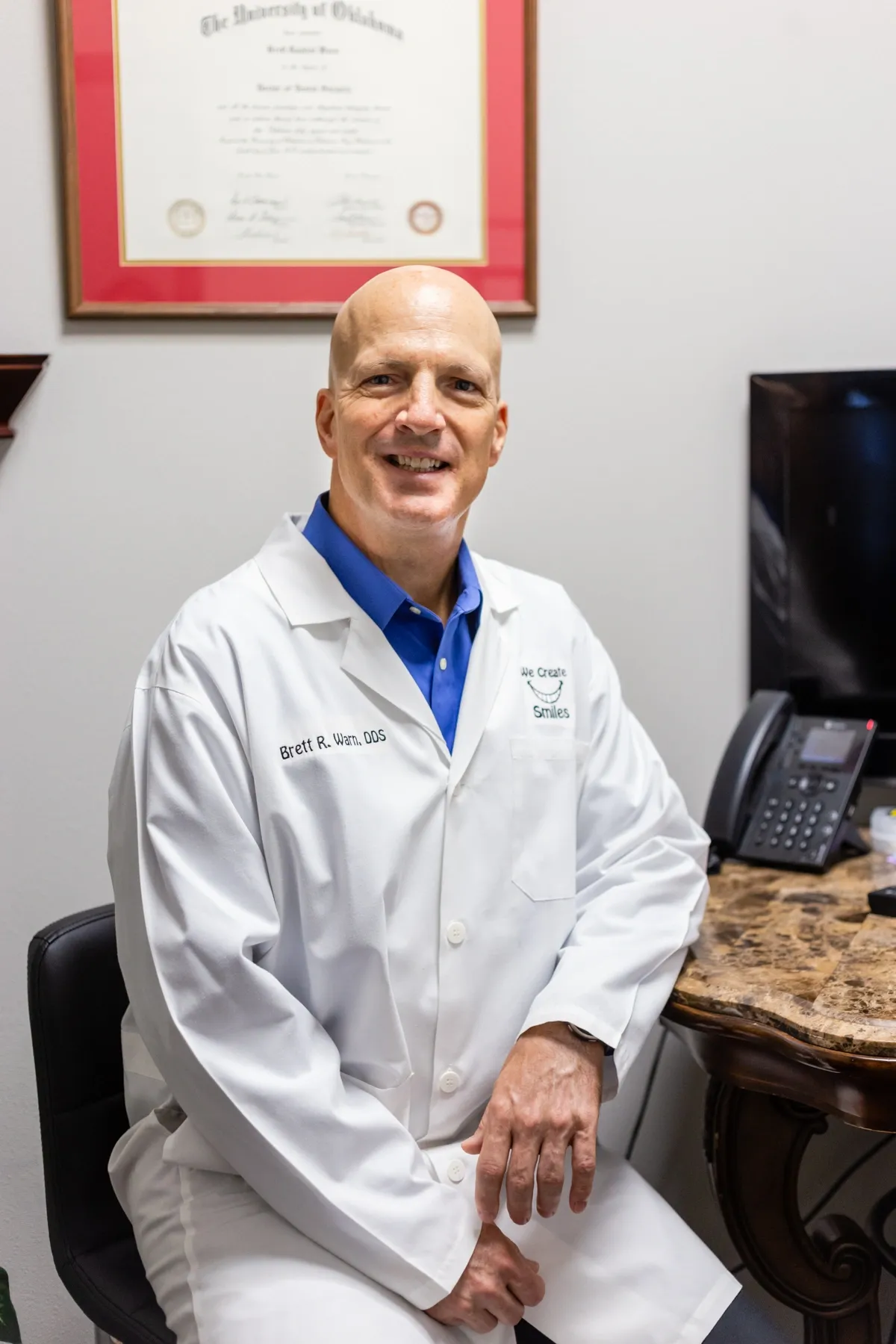 Making a great first impression is the key to success, whether in a professional, academic, or social setting. A great deal of research supports the idea that a healthy smile is central to a positive first impression, inspiring confidence, and making people feel welcomed and at ease.
By integrating his skills with the latest dental technology, Dr. Warn provides top-notch dental care to patients from both Texas and Oklahoma at the Premier Dental Arts office location in Lawton, Oklahoma. In his downtime, he enjoys relaxing with his family and watching his two children take part in various sports and outdoor activities.
Krystal is the Office Manager and Executive Assistant to Dr. Warn. She is a native Texan and met her husband in High School. They have been together for 16 years, have three children, and two fur baby. She loves spending time with God in prayer and her family, cooking, baking, crafting, and traveling. She has been with the practice for 3 years, she has loved meeting our patients past and present. She is always happy to greet you with a smile, schedule your appointments, and help you with any questions you may have.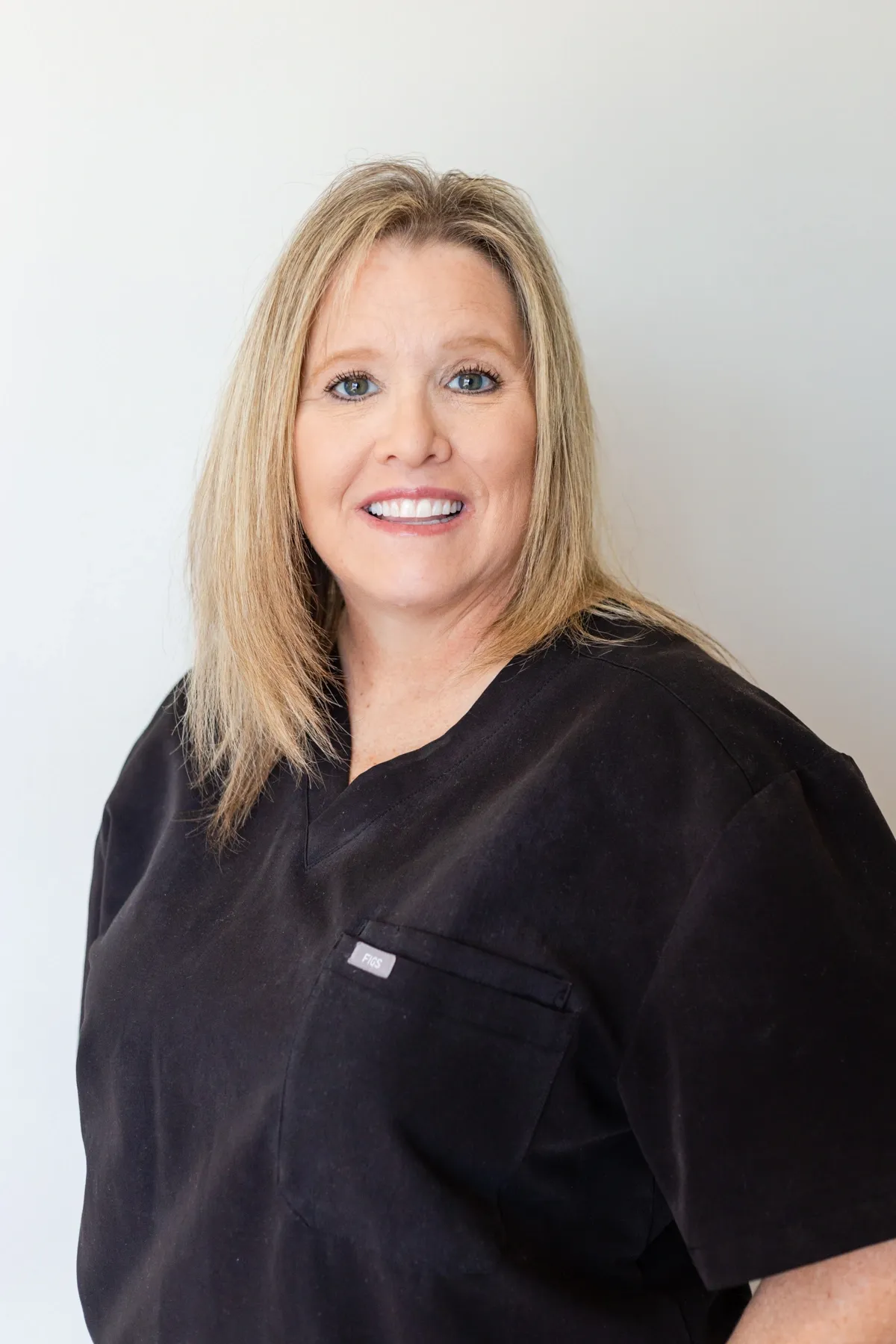 Jamie is our full time Dental Hygienist and has been with Dr. Warns' since April 2012. She is a 1994 graduate from Midwestern State University in Wichita Falls, Texas and has over 20 years experience in the dental field. She enjoys getting to know her patients and keeping them comfortable and informed. She has been married to Brad 28 years. They have a son Dylan, and a daughter Karsyn. She enjoys spending time attending kids' activities and being with her family and friends.
Ashton
Front Desk Receptionist
She was born in Durant, Oklahoma, raised in McCurtain County and relocated to Lawton in March of 2021. She loves spending time with family and friends as well as her boyfriend and fur baby. Her hobbies include working out, binge watching Netflix and going to TJ Maxx. She has had a passion for dental since she was a little girl and has had experience in the dental field for a year now. She eventually plans to go to Hygiene school to further her career and love for Dentistry.
Carmelita
Front Desk Receptionist
Carmelita is a front desk receptionist.  She was born in Fort Polk, Louisiana and has been all over the United States due to being a military dependent. She graduated from Eisenhower High School in 2007 and Platt College in 2019 for Massage Therapy. She enjoy spending time with her fiancé and daughter. Some of her hobbies include watching documentaries, painting on canvases and shopping. Carmelita has been in the service industry for 18 years and loves to brighten peoples' day with a positive attitude and laughter.
She is originally from Detroit, Michigan and has lived in Oklahoma for 10 years. She graduated from West Texas Dental Assisting School in 2018 and has almost 5 years of experience. In her free time she enjoys spending time with family, friends and her two dogs Momo and Ernie.
Jacob attended Cameron University where he earned his Bachelors Degree in Biology and Chemistry with hopes of going to Dental School. His hobbies are working on his car and going to the gym.
Ana is a Dental Assistant and was born in McAllen, Texas, and moved to Oklahoma soon. She graduated from Fredrick High School, and then attended Platt College for Dental Assisting. She is fluent English and Spanish. I have three wonderful kids and a husband of seven years. She enjoys making people smile and love spending time with family friends.
Frances was born and raised in the Philippines and married her high school sweetheart. She has a German shepherd. She loves doing photography on her free time and working towards being a Dental Hygienist.